Triple Horn ® Saddlery
Hand Made * Custom Made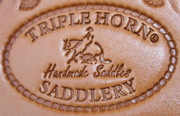 Reining & Allround Equitation

Alle Sättel entstehen "just in time", so daß noch individuelle Wünsche mit in die Gestaltung einfließen können.
All saddles are created "just in time" so that individual wishes can still flow into the design.

Lieferzeit/Delivery Time/ Tiempo de entrega aprox./ ca. 10 - 12 Wochen/month/semanas!

Preisliste/ Prices / Precios bitte über Kontakformular anfordern.



All Inclucive:

Butterflyskirt, Classicskirt oder Roundskirt, die Sattellänge 26,5" bis 28" auch/also in lightwight & extra short
Lederfarben/Colores: Natur, golden, havanna, choco, tan, choco chestnut, dark chestnut
Sitzleder/Seatleather: velour/suede: taupe, choco, casual brown, rust
Reining or Equitation Seats
Bügel/Stirrups: Leder/Leather, Alu graviert & gebogen/curved, Leder/Leather Off-Billet, Tie Strap LatigoLeather
Alle Fender werden selbstverständlich ausgedreht und die Lochung der Bügelriemen ist nummeriert
Edelstahlbeschläge/Stainless Steel, Silber und Conchos siehe jeweilige Deklaration oder ganz unten/see below


Falls Fragen benutzen Sie bitte das/ in case of questions, please use / Por preguntas, por favor ùtilise
Kontaktformular / E-Mail-Adresse im Impressum.


Mint Collection
Cow Reiner Classic
Allround Reiner with Classic Skirt,
Flower/Star/BarbWireBorderMix, Antique Silver Star Conchos,
color chestnut, Seat choco





Cow Reiner Round


Round Skirt,
Flower/Star/BarbWireBorder Mix, TX-Star Longhorn Conchos,
Color natur, Seat rust velour





Rookie Allround Reiner / Basic Model
Bordertooling Cam-Rise, Flower Border or BarbWire
Antique Silver Conchos
Butterfly or Classic Skirt
Leather choco, Seat taupe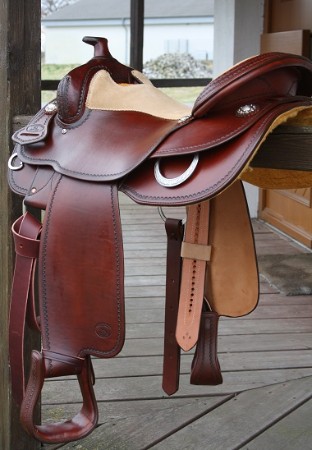 Cow R

einer Butterfly


Allround Reiner
Flower/Star/BarbWireBorder Mix,
Antique Silver Star Conchos,
color chestnut, Seat choco velour



Sporty Allround
Pelican Horn, Hornwrap,
CamRise Bordertooling, 4xClips&Strings,
color chestnut, Seat choco




Show
Basket/FlowerMix Tooling, Silver Conchos
color natur, Seat choco




JFK Reiner
Basket Bordertooling, color choco
Seat choco, Silver Conchos


Palomino

Basket Flower Tooling, Border,
Antique Flower Conchos
color dark tan/ chestnut
Seat choco


Mesa Corner Silver Reiner
Mesa Flower Corner Tooling, SilverConchos, TeardropTips,
engraved Silber Ring,
color light chestnut
Seat taupe





Sheridan Corner Flower
SheridanFlower, CamFlower Border Tooling,
Antique Silver Conchos, color choco
Seat choco









Show Saddles fully tooled

Sheridan Special

Sheridan Special
Full-Tooling Sheridan Flower Basket Mix,
Leather natur
Seat cognac

Primerose Flower
Show Reiner, Full-Tooling PrimeroseFlower Basket Mix,
Leather golden, Seat choco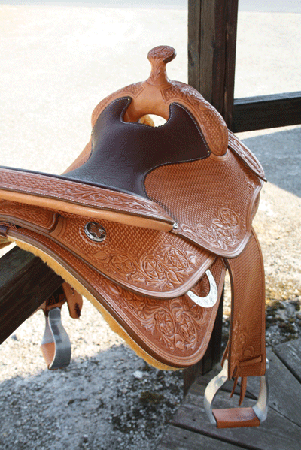 Primerose Detail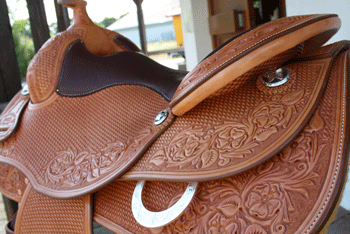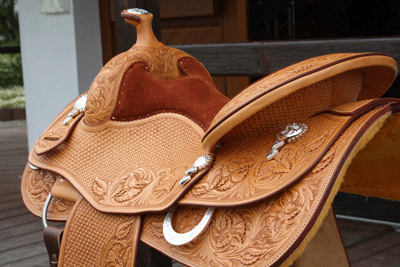 Scotsdale Flower
ScotsdaleFlower Basket Mix Tooling,
color golden, Seat rust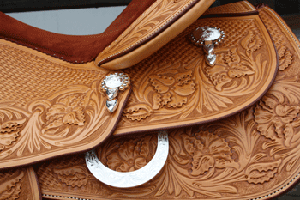 Fender with Nevada Twist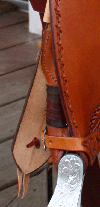 Bordertooling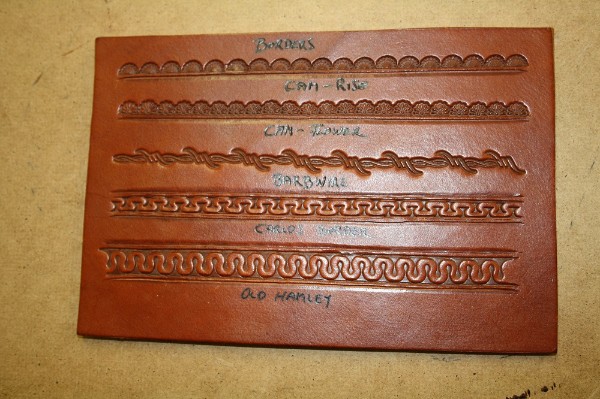 Standardsilber/Standard Silver to choose/ para elegir


Buckle: Standard, Square Buckle engraved, Round Buckle engraved

Conchos: TX-Star Longhorn gold, TX-Star Longhorn solid, Antique Flower, Berry, BerryStar, Rope, Daisy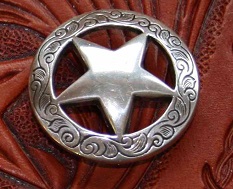 TexasStar solid

Für Silber, bitte unsere Preisliste für Silber anfordern.
For silver, please ask for our silver price list.
Por favor, para plata, solicite nuestra lista de precios de plata.



Sättel und Zubehör werden hier von uns von Hand gefertigt. Dabei verwenden wir
grundsätzlich bei allen Sätteln bestes Skirting Leder von US Stierhäuten
Die meisten hier abgebildeten Sättel sind aus Kundenwünsche oder in Zusammenarbeit
mit Trainern entstanden und bieten einen guten Anhaltspunkt zur Preisgestaltung.
Änderungen im Design und individuelle Wünsche können auch hier
umgesetzt werden, haben aber dann evtl. eine Preisänderung zur Folge.

Saddles and accessories are made by hand. We always use the
best skirting leather from US Bullhide.
Most of the saddles shown here are the result of customer requests or in
cooperation with trainers and provide a good guide to pricing. Changes in design and
individual wishes can also be here be implemented, but then possibly a price change result.
***
Sillas de montar y accesorios son todos hechos por nosotros a mano.
Siempre usamos con todas las sillas de montar el mejor (US Bullhide) de piel de buey de EE. UU.
La mayoría de los sillines que se muestran aquí son el resultado de solicitudes de los clientes
o en cooperación con entrenadores y proporcionar una buena guía de precios.
Los cambios en el diseño y los deseos individuales también pueden estar aquí.
implementarse, pero luego posiblemente un resultado de cambio de precio.